Inkling
Middleweight
Splatoon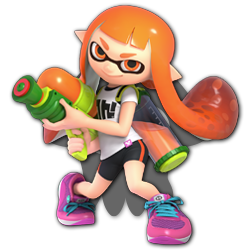 Damage Table for Inkling
Smash Attacks
Neutral
2% (Hits 1-2)
Neutral SS
3.5% (Hit 3)
Neutral WS
0.4%|2.5% (Loop|Last)
Up
4% (Hit 1)
Up SS
15% (Hit 2: Mid)
Up WS
6-10% (Hit 2: Other)
Down
7-12.5% (Hit 1: Ink)
Down SS
6-11% (Hit 2: Ink)
Down WS
5-10%|4-9% (No Ink: 1|2)
Side
14% (Ink: Handle)
Side SS
16% (Ink: Brush)
Side WS
12% (No Ink)
Special Attacks
Neutral
0.2% (Below Line)
Neutral SS
0.3% (Above Line)
Neutral WS
0.1% (Near Empty)
Up
6% (Far)
Up SS
8% (Close)
Up WS
8% (Landing)
Down
9.4-15%
Down SS
N/A
Down WS
N/A
Side
11%
Side SS
N/A
Side WS
2-3% (Empty Tank)
Air Attacks
Neutral
7%
Neutral SS
N/A
Neutral WS
N/A
Up
4.5% (Hit 1)
Up SS
6.5% (Hit 2)
Up WS
N/A
Down
10% (Handle)
Down SS
12% (Nozzle)
Down WS
N/A
Forward
10% (Legs)
Forward SS
12% (Feet)
Forward WS
7% (Late)
Back
7.5% (Handle)
Back SS
10% (Nozzle)
Back WS
N/A
Tilt Attacks
Up
6%
Up SS
N/A
Up WS
N/A
Down
3% (Hit 1)
Down SS
6% (Hit 2)
Down WS
N/A
Side
9%
Side SS
N/A
Side WS
N/A
Other
Pummel
1.3%
Up Throw
3% | 3%
Down Throw
7%
Forward Throw
5% | 3%
Back Throw
9%
Floor Forward
7%
Floor Back
7%
Floor Trip
5%
Edge
9%
Dash
8%
Dash SS
N/A
Dash WS
6%
Air Grab
N/A
Air Grab SS
N/A
Air Grab WS
N/A
Special Move Breakdowns
Splattershot
Shoots a stream of ink. Tilting up or down adjusts the angle of the attack.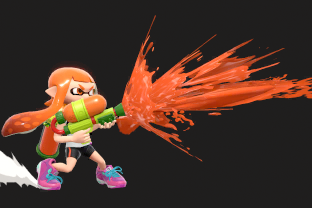 Splat Roller
Pushes the Splat Roller, burying any opponents hit by it. Tilting left or right changes the direction.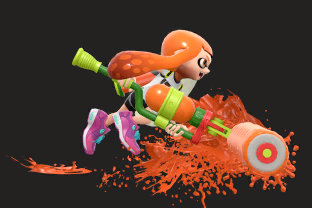 Super Jump
Transforms into a squid and jumps straight up. Tilting left or right can change the angle a little.