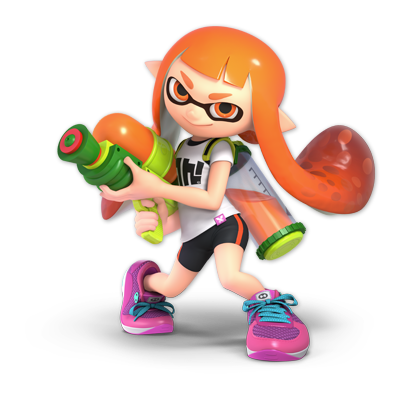 Inkling
Middleweight
Splatoon
Damage Table for Inkling
Smash Attacks
Neutral
---
Neutral: 2% (Hits 1-2)
Neutral SS: 3.5% (Hit 3)
Neutral WS: 0.4%|2.5% (Loop|Last)
Up
---
Up: 4% (Hit 1)
Up SS: 15% (Hit 2: Mid)
Up WS: 6-10% (Hit 2: Other)
Down
---
Down: 7-12.5% (Hit 1: Ink)
Down SS: 6-11% (Hit 2: Ink)
Down WS: 5-10%|4-9% (No Ink: 1|2)
Side
---
Side: 14% (Ink: Handle)
Side SS: 16% (Ink: Brush)
Side WS: 12% (No Ink)
Special Attacks
Neutral
---
Neutral: 0.2% (Below Line)
Neutral SS: 0.3% (Above Line)
Neutral WS: 0.1% (Near Empty)
Up
---
Up: 6% (Far)
Up SS: 8% (Close)
Up WS: 8% (Landing)
Down
---
Down: 9.4-15%
Down SS: N/A
Down WS: N/A
Side
---
Side: 11%
Side SS: N/A
Side WS: 2-3% (Empty Tank)
Air Attacks
Neutral
---
Neutral: 7%
Neutral SS: N/A
Neutral WS: N/A
Up
---
Up: 4.5% (Hit 1)
Up SS: 6.5% (Hit 2)
Up WS: N/A
Down
---
Down: 10% (Handle)
Down SS: 12% (Nozzle)
Down WS: N/A
Forward
---
Forward: 10% (Legs)
Forward SS: 12% (Feet)
Forward WS: 7% (Late)
Back
---
Back: 7.5% (Handle)
Back SS: 10% (Nozzle)
Back WS: N/A
Tilt Attacks
Up
---
Up: 6%
Up SS: N/A
Up WS: N/A
Down
---
Down: 3% (Hit 1)
Down SS: 6% (Hit 2)
Down WS: N/A
Side
---
Side: 9%
Side SS: N/A
Side WS: N/A
Other Attacks
Grabs
Pummel: 1.3%
Up: 3% | 3%
Down: 7%
Forward: 5% | 3%
Back: 9%
Air Grab
Air Grab: N/A
Air Grab SS: N/A
Air Grab WS: N/A
Dash Attack
Dash: 8%
Dash SS: N/A
Dash WS: 6%
Floor & Edge
Floor Forward: 7%
Floor Back: 7%
Floor Trip: 5%
Edge: 9%
Move Breakdown
Neutral
---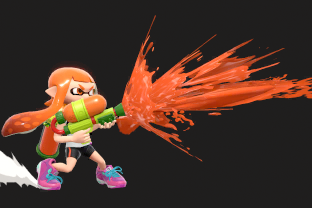 Splattershot
Shoots a stream of ink. Tilting up or down adjusts the angle of the attack.
Side
---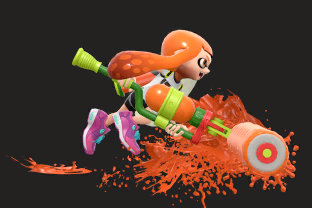 Splat Roller
Pushes the Splat Roller, burying any opponents hit by it. Tilting left or right changes the direction.
Up
---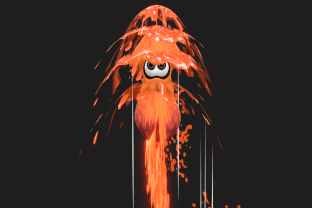 Super Jump
Transforms into a squid and jumps straight up. Tilting left or right can change the angle a little.
Down
---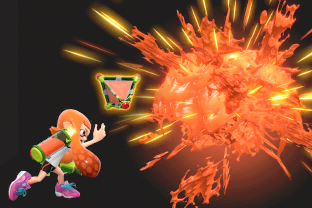 Splat Bomb
Throws a Splat Bomb, which explodes when it hits or after time passes. Holding the button tosses it farther.