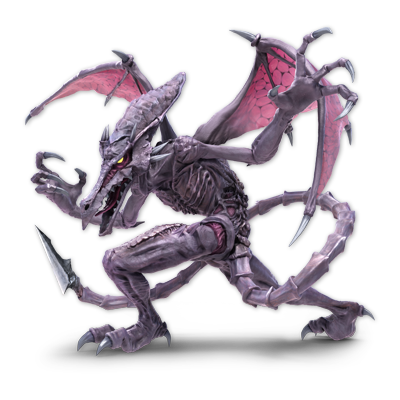 Ridley
Heavyweight
Metroid
Damage Table for Ridley
Smash Attacks
Neutral
---
Neutral: 2%|1.5% (Hits: 1|2)
Neutral SS: 5% (Hit 3)
Neutral WS: 0.7%|2% (Loop|Last)
Up
---
Up: 17%
Up SS: N/A
Up WS: N/A
Down
---
Down: 16%
Down SS: N/A
Down WS: N/A
Side
---
Side: 20%
Side SS: N/A
Side WS: N/A
Special Attacks
Neutral
---
Neutral: 4.5-5.66%
Neutral SS: N/A
Neutral WS: 3.5-4.4%
Up
---
Up: 15%|16% (Down|Sides)
Up SS: 18% (Up)
Up WS: 5% (Down: Landing)
Down
---
Down: 5% (Tail)
Down SS: 40% (Tip: Hit 1)
Down WS: 10% (Tip: Hit 2)
Side
---
Side: 4% (Slam)
Side SS: 2% (Drag Loop)
Side WS: 7% (Throw)
Air Attacks
Neutral
---
Neutral: 9% (Tail)
Neutral SS: 12% (Tip)
Neutral WS: 5% (Late)
Up
---
Up: 12% (Wings)
Up SS: 14% (Tip)
Up WS: N/A
Down
---
Down: 12% (Legs)
Down SS: 14% (Feet)
Down WS: 12% (Late)
Forward
---
Forward: 3% (Tail: 1-2)
Forward SS: 5% (Tip: 1-2)
Forward WS: 5%|7% (Hit 3: Tail|Tip)
Back
---
Back: 16%
Back SS: N/A
Back WS: N/A
Tilt Attacks
Up
---
Up: 7% (Wing)
Up SS: 9% (Tip)
Up WS: N/A
Down
---
Down: 6% (Tail)
Down SS: 9% (Tip)
Down WS: N/A
Side
---
Side: 10% (Tail)
Side SS: 13% (Tip)
Side WS: N/A
Other Attacks
Grabs
Pummel: 1.6%
Up: 8% | 4%
Down: 7%
Forward: 9%
Back: 11%
Air Grab
Air Grab: N/A
Air Grab SS: N/A
Air Grab WS: N/A
Dash Attack
Dash: 12%
Dash SS: N/A
Dash WS: N/A
Floor & Edge
Floor Forward: 7%
Floor Back: 7%
Floor Trip: 5%
Edge: 10%
Move Breakdown
Neutral
---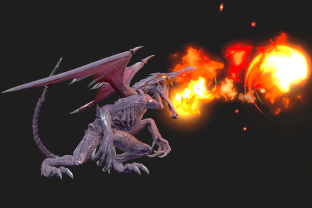 Plasma Breath
Spits out balls of plasma in a curve. Can be charged to shoot a stream of plasma balls.
Side
---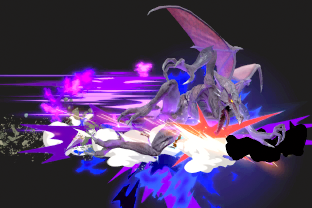 Space Pirate Rush
Smashes an opponent into the ground then drags them along. Tilting up or pressing attack throws them forward.
Up
---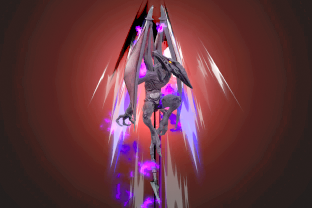 Wing Blitz
Charges up and rises into the air with force. The path can be adjusted with directional input.
Down
---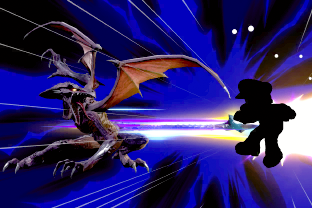 Skewer
Stabs forward with the sharp end of its tail. With the right positioning, this can be a debilitating blow!