Ridley
Heavyweight
Metroid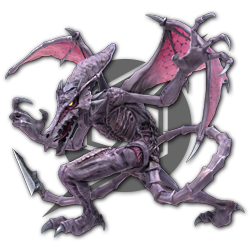 Damage Table for Ridley
Smash Attacks
Neutral
2%|1.5% (Hits: 1|2)
Neutral SS
5% (Hit 3)
Neutral WS
0.7%|2% (Loop|Last)
Up
17%
Up SS
N/A
Up WS
N/A
Down
16%
Down SS
N/A
Down WS
N/A
Side
20%
Side SS
N/A
Side WS
N/A
Special Attacks
Neutral
4.5-5.66%
Neutral SS
N/A
Neutral WS
3.5-4.4%
Up
15%|16% (Down|Sides)
Up SS
18% (Up)
Up WS
5% (Down: Landing)
Down
5% (Tail)
Down SS
40% (Tip: Hit 1)
Down WS
10% (Tip: Hit 2)
Side
4% (Slam)
Side SS
2% (Drag Loop)
Side WS
7% (Throw)
Air Attacks
Neutral
9% (Tail)
Neutral SS
12% (Tip)
Neutral WS
5% (Late)
Up
12% (Wings)
Up SS
14% (Tip)
Up WS
N/A
Down
12% (Legs)
Down SS
14% (Feet)
Down WS
12% (Late)
Forward
3% (Tail: 1-2)
Forward SS
5% (Tip: 1-2)
Forward WS
5%|7% (Hit 3: Tail|Tip)
Back
16%
Back SS
N/A
Back WS
N/A
Tilt Attacks
Up
7% (Wing)
Up SS
9% (Tip)
Up WS
N/A
Down
6% (Tail)
Down SS
9% (Tip)
Down WS
N/A
Side
10% (Tail)
Side SS
13% (Tip)
Side WS
N/A
Other
Pummel
1.6%
Up Throw
8% | 4%
Down Throw
7%
Forward Throw
9%
Back Throw
11%
Floor Forward
7%
Floor Back
7%
Floor Trip
5%
Edge
10%
Dash
12%
Dash SS
N/A
Dash WS
N/A
Air Grab
N/A
Air Grab SS
N/A
Air Grab WS
N/A
Special Move Breakdowns
Plasma Breath
Spits out balls of plasma in a curve. Can be charged to shoot a stream of plasma balls.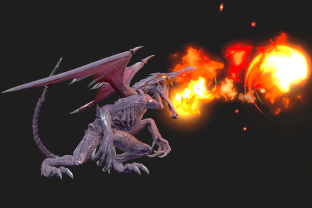 Space Pirate Rush
Smashes an opponent into the ground then drags them along. Tilting up or pressing attack throws them forward.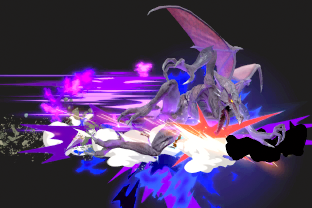 Wing Blitz
Charges up and rises into the air with force. The path can be adjusted with directional input.