---
Damage Table for Simon
Smash Attacks
Neutral
Neutral SS
Neutral WS
2% (Hits 1-2)
1%1.5% (Chain|Ball)
0.5%|2.5% (Loop|Last)
14% (Chain)
16% (Ball)
N/A
14% (Chain)
16% (Ball)
12% (Chain: Near)
16% (Chain)
18% (Ball)
14% (Chain: Near)
Special Attacks
Neutral
Neutral SS
Neutral WS
2% (Hit 1)
1.5% (Hits 2-5)
6% (Hit 6)
2.9% (Flask)
1.3% (Flames: 1-8)
N/A
6%
8% (Smash)
5% (Return)
Air Attacks
Neutral
Neutral SS
Neutral WS
1% (Hits 1-6)
4% (Hit 7)
N/A
10% (Chain)
12% (Ball)
2% (Body)
Forward
Forward SS
Forward WS
10% (Chain)
12% (Ball)
2% (Body)
10% (Chain)
12% (Ball)
2% (Body)
Tilt Attacks
10% (Whip)
2% (Startup)
N/A
5% (Hit 1)
7% (Hit 2)
3.5% (Hit 2: Late)
10% (Chain)
12% (Ball)
N/A
Other
Pummel
Up Throw
Down Throw
Forward Throw
Back Throw
Air Grab
Air Grab SS
Air Grab WS
1.7% (Hits 1-5)
3.5% (Hit 6)
N/A
Floor Forward
Floor Back
Floor Trip
Edge
Special Move Breakdowns
---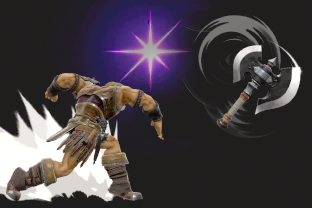 Axe
Throws an axe that curves and passes through obstacles. Tilting left or right while it arcs changes the distance.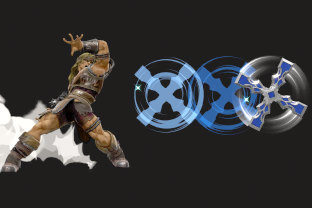 Cross
Throws a cross like a boomerang. The power and distance changes if the stick is flicked.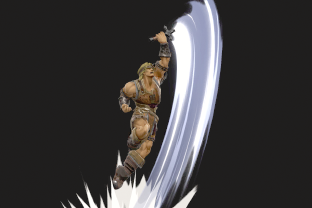 Uppercut
Performs an uppercut while rising up high. Lands multiple blows if it hits the moment he leaves the ground.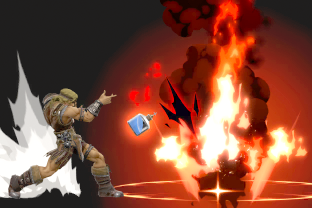 Holy Water
Throws a bottle of holy water diagonally downward. Pillars of flame erupts from where it lands.