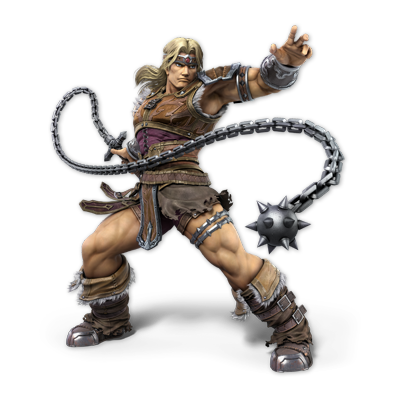 Simon
Heavyweight
Castlevania
Damage Table for Simon
Smash Attacks
Neutral
---
Neutral: 2% (Hits 1-2)
Neutral SS: 1%1.5% (Chain|Ball)
Neutral WS: 0.5%|2.5% (Loop|Last)
Up
---
Up: 14% (Chain)
Up SS: 16% (Ball)
Up WS: N/A
Down
---
Down: 14% (Chain)
Down SS: 16% (Ball)
Down WS: 12% (Chain: Near)
Side
---
Side: 16% (Chain)
Side SS: 18% (Ball)
Side WS: 14% (Chain: Near)
Special Attacks
Neutral
---
Neutral: 15%
Neutral SS: N/A
Neutral WS: N/A
Up
---
Up: 2% (Hit 1)
Up SS: 1.5% (Hits 2-5)
Up WS: 6% (Hit 6)
Down
---
Down: 2.9% (Flask)
Down SS: 1.3% (Flames: 1-8)
Down WS: N/A
Side
---
Side: 6%
Side SS: 8% (Smash)
Side WS: 5% (Return)
Air Attacks
Neutral
---
Neutral: 1% (Hits 1-6)
Neutral SS: 4% (Hit 7)
Neutral WS: N/A
Up
---
Up: 10% (Chain)
Up SS: 12% (Ball)
Up WS: 2% (Body)
Down
---
Down: 12%
Down SS: N/A
Down WS: 7%
Forward
---
Forward: 10% (Chain)
Forward SS: 12% (Ball)
Forward WS: 2% (Body)
Back
---
Back: 10% (Chain)
Back SS: 12% (Ball)
Back WS: 2% (Body)
Tilt Attacks
Up
---
Up: 10% (Whip)
Up SS: 2% (Startup)
Up WS: N/A
Down
---
Down: 5% (Hit 1)
Down SS: 7% (Hit 2)
Down WS: 3.5% (Hit 2: Late)
Side
---
Side: 10% (Chain)
Side SS: 12% (Ball)
Side WS: N/A
Other Attacks
Grabs
Pummel: 1.2%
Up: 6% | 4%
Down: 8%
Forward: 7%
Back: 7%
Air Grab
Air Grab: N/A
Air Grab SS: N/A
Air Grab WS: N/A
Dash Attack
Dash: 1.7% (Hits 1-5)
Dash SS: 3.5% (Hit 6)
Dash WS: N/A
Floor & Edge
Floor Forward: 7%
Floor Back: 7%
Floor Trip: 5%
Edge: 9%
Move Breakdown
Neutral
---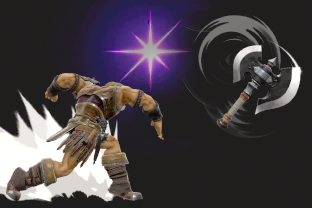 Axe
Throws an axe that curves and passes through obstacles. Tilting left or right while it arcs changes the distance.
Side
---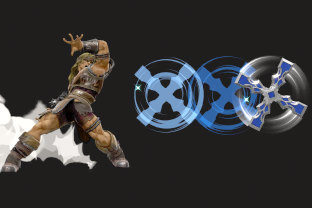 Cross
Throws a cross like a boomerang. The power and distance changes if the stick is flicked.
Up
---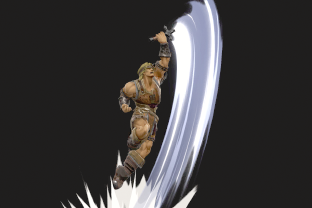 Uppercut
Performs an uppercut while rising up high. Lands multiple blows if it hits the moment he leaves the ground.
Down
---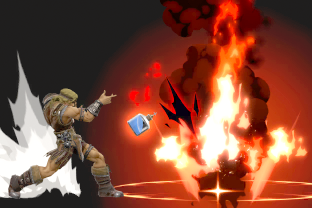 Holy Water
Throws a bottle of holy water diagonally downward. Pillars of flame erupts from where it lands.