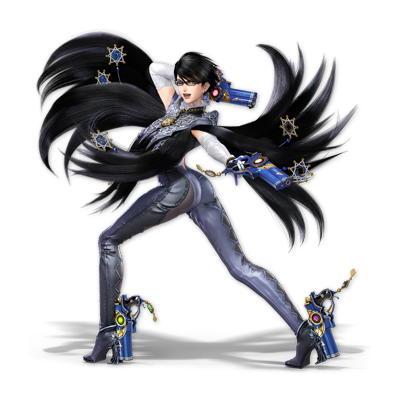 Bayonetta
Featherweight
Bayonetta
Damage Table for Bayonetta
Smash Attacks
Neutral
---
Neutral: 1.4% (Hits 1-2)
Neutral SS: 2.2%|0.2% (Hit 3|Loop)
Neutral WS: 0.5%|5% (Second Last|Last)
Up
---
Up: 16%
Up SS: 17%
Up WS: 15%
Down
---
Down: 5% (Bayonetta)
Down SS: 16% (Butterfly :Clean)
Down WS: 15% (Butterfly: Late)
Side
---
Side: 14% (Wrist)
Side SS: 16% (Fist)
Side WS: N/A
Special Attacks
Neutral
---
Neutral: 1.35% (Uncharged)
Neutral SS: 2.7% (Full Charge)
Neutral WS: N/A
Up
---
Up: 3% (Ground: 1&7)
Up SS: 0.2% (Hits 2-5)
Up WS: 2% (Air: 1)
Down
---
Down: (See Below)
Down SS: N/A
Down WS: N/A
Side
---
Side: 7-8% (Hit 1)
Side SS: 5% (Hit 2)
Side WS: 5-7% (After Burner)
Air Attacks
Neutral
---
Neutral: 6% (Late)
Neutral SS: 8% (Clean)
Neutral WS: 3% (Bullet Arts)
Up
---
Up: 7.5% (Kick)
Up SS: 3% (Bullet Arts)
Up WS: N/A
Down
---
Down: 7%|8% (Body|Leg)
Down SS: 9% (Heel)
Down WS: 5% (Landing)
Forward
---
Forward: 4% (Hit 1)
Forward SS: 3.3% (Hit 2)
Forward WS: 7% (Hit 3)
Back
---
Back: 10% (Leg)
Back SS: 13% (Foot)
Back WS: N/A
Tilt Attacks
Up
---
Up: 1.5% (Hit 1: Clean)
Up SS: 2% (Hit 1: Late)
Up WS: 6% (Hit 2)
Down
---
Down: 5% (Leg)
Down SS: 6% (Foot)
Down WS: N/A
Side
---
Side: 3% (Hit 1)
Side SS: 3% (Hit 2)
Side WS: 7% (Hit 3)
Other Attacks
Grabs
Pummel: 0.6%|0.7%
Up: 3% | 4.5%
Down: 3% | 5%
Forward: 7% | 3%
Back: 3% | 6%
Air Grab
Air Grab: N/A
Air Grab SS: N/A
Air Grab WS: N/A
Dash Attack
Dash: 10%
Dash SS: N/A
Dash WS: 8%
Floor & Edge
Floor Forward: 7%
Floor Back: 7%
Floor Trip: 5%
Edge: 9%
Move Breakdown
Neutral
---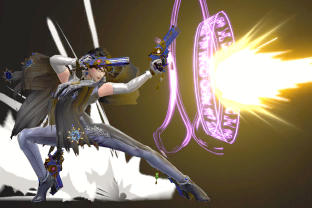 Bullet Climax
Quickly fires a volley from two guns. Can be charged for more power and extended by tapping the button.
Side
---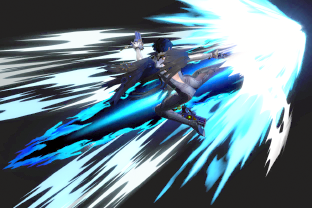 Heel Slide / After Burner Kick
Slides across the ground (or diagonally in the air) with a speedy kick. Another kick is possible if it connects midair.
Up
---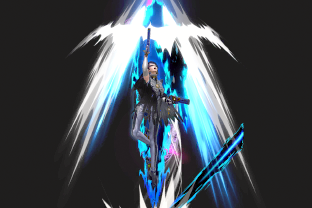 Witch Twist
Spins into the air like a cyclone. A second twist is possible if combined with a midair jump.
Down
---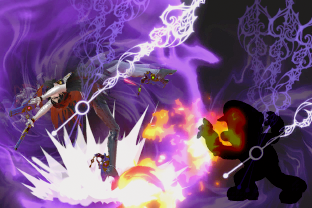 Witch Time
Avoids an enemy attack and slows down time. The effect is reduced with repeated use.