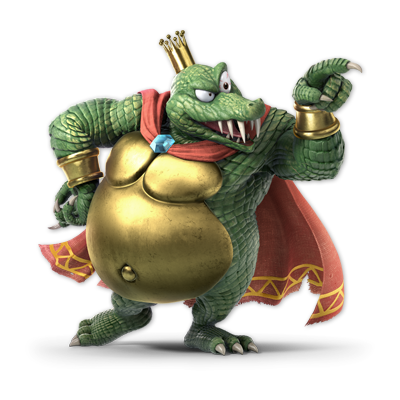 King K. Rool
Super Heavyweight
Donkey Kong
Damage Table for King K. Rool
Smash Attacks
Neutral
---
Neutral: 2.5% (Hit 1)
Neutral SS: 2.5% (Hit 2)
Neutral WS: 7% (Hit 3)
Up
---
Up: 8%|15% (Headbutt: Late|Clean)
Up SS: 10% (Plank)
Up WS: 3% (Meteor)
Down
---
Down: 18%
Down SS: 4% (Quake)
Down WS: N/A
Side
---
Side: 16.9%|19.5% (Down: Close|SS)
Side SS: 17.3%|19.9% (Up: Close|SS)
Side WS: 16.5%|19% (Side: Close|SS)
Special Attacks
Neutral
---
Neutral: 13% (Kannonball)
Neutral SS: 17% (Ball Relaunched)
Neutral WS: 12% (Throw)
Up
---
Up: 3% (Each Hit)
Up SS: N/A
Up WS: N/A
Down
---
Down: 1.5x Reflection
Down SS: 1.5x Counter
Down WS: (12-42% Counter Dmg)
Side
---
Side: 9%|7% (Projectile|Return)
Side SS: 10.3-10.8% (Item)
Side WS: 7.7% (Z-Drop Item)
Air Attacks
Neutral
---
Neutral: 12%
Neutral SS: N/A
Neutral WS: 8%
Up
---
Up: 14%
Up SS: N/A
Up WS: 10%
Down
---
Down: 12%
Down SS: N/A
Down WS: 9%
Forward
---
Forward: 12%
Forward SS: 14%
Forward WS: 8%|10% (Late: WS|SS)
Back
---
Back: 19%
Back SS: N/A
Back WS: 14.5%
Tilt Attacks
Up
---
Up: 8.1% (Mid)
Up SS: 11.5% (Early)
Up WS: 6.8% (Late)
Down
---
Down: 8% (Bury)
Down SS: 10%|13% (Late|Clean)
Down WS: 7% (Quake)
Side
---
Side: 13%
Side SS: N/A
Side WS: 11%
Other Attacks
Grabs
Pummel: 1.6%
Up: 16%
Down: 5%
Forward: 10% | 7%
Back: 11%
Air Grab
Air Grab: N/A
Air Grab SS: N/A
Air Grab WS: N/A
Dash Attack
Dash: 15%
Dash SS: N/A
Dash WS: 11%
Floor & Edge
Floor Forward: 7%
Floor Back: 7%
Floor Trip: 5%
Edge: 10%
Move Breakdown
Neutral
---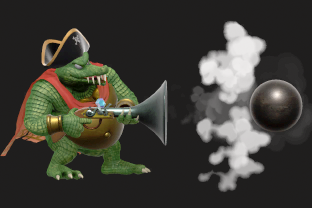 Blunderbuss
Fires an iron ball from his gun. The button can be held to suck the iron ball (or opponents) back in.
Side
---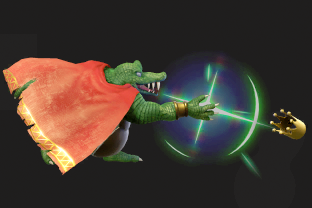 Crownerang
Throws his crown like it's a boomerang. Can't be thrown again until it is picked up.
Up
---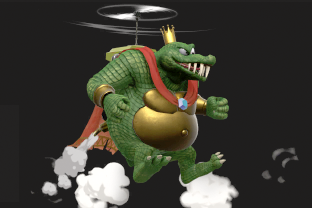 Propellerpack
Rises up into the air wearing a propeller, damaging any opponents caught in the attack.
Down
---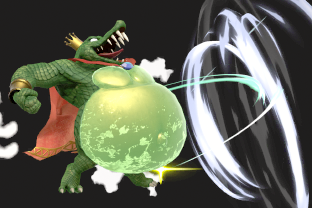 Gut Check
Counterattacks with his belly. Can reflect projectiles, but it does not protect from behind.