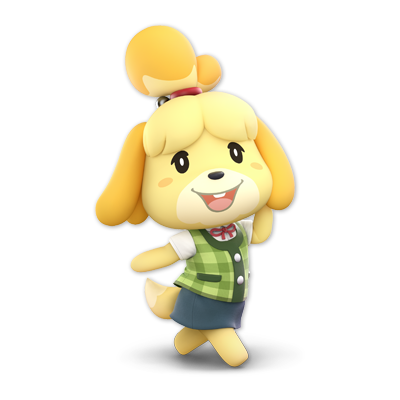 Isabelle
Lightweight
Animal Crossing
Damage Table for Isabelle
Smash Attacks
Neutral
---
Neutral: 2%
Neutral SS: N/A
Neutral WS: N/A
Up
---
Up: 2% (Hit 1)
Up SS: 12% (Hit 2)
Up WS: 10% (Hit 2: Late)
Down
---
Down: 8% (Back)
Down SS: 10% (Front)
Down WS: N/A
Side
---
Side: 17% (Close)
Side SS: N/A
Side WS: 8% (Far)
Special Attacks
Neutral
---
Neutral: 1.9x (Projectile)
Neutral SS: N/A
Neutral WS: N/A
Up
---
Up: 0%
Up SS: N/A
Up WS: N/A
Down
---
Down: 1.6% (Hits 1-2)
Down SS: 0.9% (Hits 3-5)
Down WS: 12% (Hit 6)
Side
---
Side: 9.5-18.7%
Side SS: N/A
Side WS: N/A
Air Attacks
Neutral
---
Neutral: 10%
Neutral SS: N/A
Neutral WS: 6%
Up
---
Up: 10%
Up SS: N/A
Up WS: 5%
Down
---
Down: 10%
Down SS: N/A
Down WS: 5%
Forward
---
Forward: 4%
Forward SS: 7%
Forward WS: 2.5%
Back
---
Back: 5%
Back SS: 9%
Back WS: 3%
Tilt Attacks
Up
---
Up: 8%
Up SS: N/A
Up WS: N/A
Down
---
Down: 13% (Close)
Down SS: N/A
Down WS: 8% (Far)
Side
---
Side: 9%
Side SS: N/A
Side WS: N/A
Other Attacks
Grabs
Pummel: 1%
Up: 10%
Down: 6%
Forward: 9%
Back: 11%
Air Grab
Air Grab: N/A
Air Grab SS: N/A
Air Grab WS: N/A
Dash Attack
Dash: 10% (Start)
Dash SS: 6% (Pot)
Dash WS: N/A
Floor & Edge
Floor Forward: 7%
Floor Back: 7%
Floor Trip: 5%
Edge: 9%
Move Breakdown
Neutral
---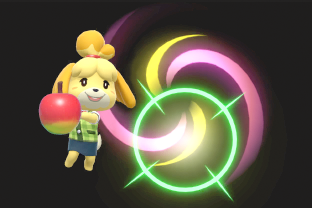 Pocket
Pockets an item or projectiles to use later. Pressing the button again takes it back out.
Side
---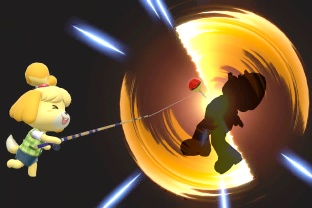 Fishing Rod
Hooks an opponent and throws them forward. Tilting up or down throws the opponent in that direction.
Up
---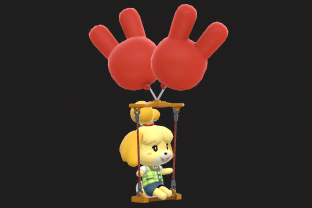 Balloon Trip
Flies around with balloons. Great maneuverability, but the balloons can be popped.
Down
---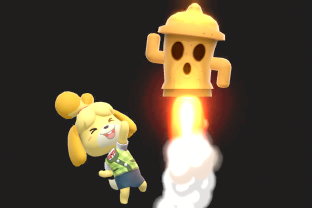 Lloid Trap
Buries Lloid in the ground. If touched by a foe, it rises up, dealing constant damage, and then explodes.