Ivysaur
Middleweight
Pokémon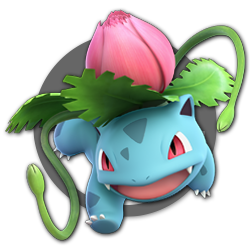 Damage Table for Ivysaur
Smash Attacks
Neutral
2% (Hits 1-2)
Neutral SS
0.5% (Rapid Hits)
Neutral WS
2% (Final)
Up
17%
Up SS
N/A
Up WS
N/A
Down
10% (Mid)
Down SS
12% (Far)
Down WS
8% (Near)
Side
16%
Side SS
N/A
Side WS
14%
Special Attacks
Neutral
3%|2% (Startup|Contact)
Neutral SS
3% (Final)
Neutral WS
1.2-1.5% (Seeds)
Up
11%
Up SS
13%
Up WS
N/A
Down
N/A
Down SS
N/A
Down WS
N/A
Side
6% (Mid)
Side SS
8%
Side WS
4% (Late)
Air Attacks
Neutral
1% (Hits 1-7)
Neutral SS
2% (Hit 8)
Neutral WS
N/A
Up
15%
Up SS
N/A
Up WS
N/A
Down
10%
Down SS
N/A
Down WS
N/A
Forward
12%
Forward SS
N/A
Forward WS
N/A
Back
3% (Hit 1)
Back SS
6% (Hit 2)
Back WS
N/A
Tilt Attacks
Up
7%
Up SS
N/A
Up WS
N/A
Down
5.5%
Down SS
N/A
Down WS
N/A
Side
1.5% (Hits 1-6)
Side SS
2% (Hit 7)
Side WS
N/A
Other
Pummel
1.3%
Up Throw
4% | 5%
Down Throw
7%
Forward Throw
5% (Hits 1-2)
Back Throw
12%
Floor Forward
7%
Floor Back
7%
Floor Trip
5%
Edge
9%
Dash
12%
Dash SS
N/A
Dash WS
10%
Air Grab
N/A
Air Grab SS
N/A
Air Grab WS
N/A
Special Move Breakdowns
Bullet Seed
Rapidly fires seeds from the bud. The button can be held to make the attack last longer.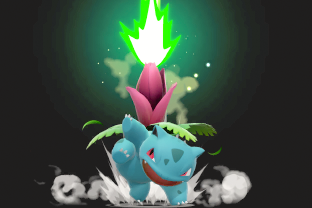 Razor Leaf
Fires leaves that cut into opponents. The attacks keep going after hitting and have a long range.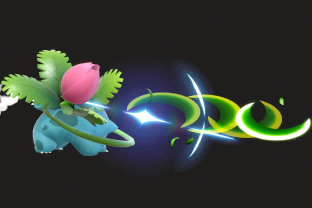 Vine Whip
Attacks with vines like they're whips. The vines can also grab onto edges.