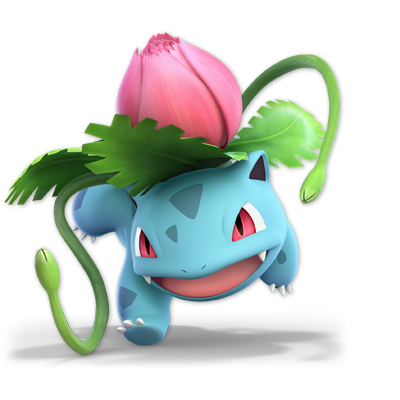 Ivysaur
Middleweight
Pokémon
Damage Table for Ivysaur
Smash Attacks
Neutral
---
Neutral: 2% (Hits 1-2)
Neutral SS: 0.5% (Rapid Hits)
Neutral WS: 2% (Final)
Up
---
Up: 17%
Up SS: N/A
Up WS: N/A
Down
---
Down: 10% (Mid)
Down SS: 12% (Far)
Down WS: 8% (Near)
Side
---
Side: 16%
Side SS: N/A
Side WS: 14%
Special Attacks
Neutral
---
Neutral: 3%|2% (Startup|Contact)
Neutral SS: 3% (Final)
Neutral WS: 1.2-1.5% (Seeds)
Up
---
Up: 11%
Up SS: 13%
Up WS: N/A
Down
---
Down: N/A
Down SS: N/A
Down WS: N/A
Side
---
Side: 6% (Mid)
Side SS: 8%
Side WS: 4% (Late)
Air Attacks
Neutral
---
Neutral: 1% (Hits 1-7)
Neutral SS: 2% (Hit 8)
Neutral WS: N/A
Up
---
Up: 15%
Up SS: N/A
Up WS: N/A
Down
---
Down: 10%
Down SS: N/A
Down WS: N/A
Forward
---
Forward: 12%
Forward SS: N/A
Forward WS: N/A
Back
---
Back: 3% (Hit 1)
Back SS: 6% (Hit 2)
Back WS: N/A
Tilt Attacks
Up
---
Up: 7%
Up SS: N/A
Up WS: N/A
Down
---
Down: 5.5%
Down SS: N/A
Down WS: N/A
Side
---
Side: 1.5% (Hits 1-6)
Side SS: 2% (Hit 7)
Side WS: N/A
Other Attacks
Grabs
Pummel: 1.3%
Up: 4% | 5%
Down: 7%
Forward: 5% (Hits 1-2)
Back: 12%
Air Grab
Air Grab: N/A
Air Grab SS: N/A
Air Grab WS: N/A
Dash Attack
Dash: 12%
Dash SS: N/A
Dash WS: 10%
Floor & Edge
Floor Forward: 7%
Floor Back: 7%
Floor Trip: 5%
Edge: 9%
Move Breakdown
Neutral
---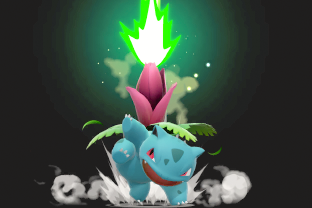 Bullet Seed
Rapidly fires seeds from the bud. The button can be held to make the attack last longer.
Side
---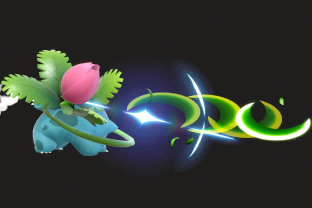 Razor Leaf
Fires leaves that cut into opponents. The attacks keep going after hitting and have a long range.
Up
---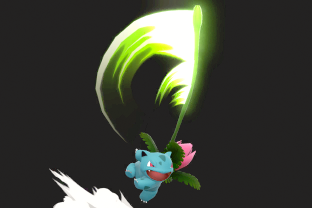 Vine Whip
Attacks with vines like they're whips. The vines can also grab onto edges.
Down
---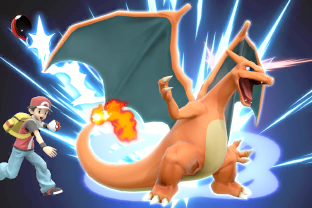 Pokemon Change
Switches to Charizard. Immune to damage initially, but become vulnerable if used repeatedly.