---
Damage Table for Mii Gunner
Smash Attacks
Neutral
Neutral SS
Neutral WS
1.7% (Hits 1-2)
1% (Hit 3: Cannon)
4.5% (Hit 3: Explosion)
3% (Hit 1)
2.5% (Hits 2-4)
7% (Hit 5)
11.5% (Front)
14% (Back)
N/A
1.7% (Hits 1-6)
7.5% (Hit 7)
N/A
Special Attacks
Neutral
Neutral SS
Neutral WS
Varies by Move
(See Below)
N/A
Varies by Move
(See Below)
N/A
Varies by Move
(See Below)
N/A
Varies by Move
(See Below)
N/A
Air Attacks
Neutral
Neutral SS
Neutral WS
1.7% (Hits 1-6)
4% (Hit 7)
N/A
12% (Burst: Late)
15% (Burst)
10% (Cannon)
Forward
Forward SS
Forward WS
Tilt Attacks
10.5% (Middle)
13% (Close)
8% (Far)
Other
Pummel
Up Throw
Down Throw
Forward Throw
Back Throw
1.2%
7% | 3%
7%
4% | 3%
7% | 3%
Air Grab
Air Grab SS
Air Grab WS
Floor Forward
Floor Back
Floor Trip
Edge
Special Move Breakdowns
---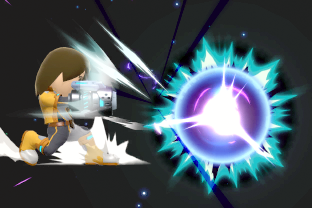 Charge Blast
Fires a straight plasma shot. Can be charged for extra firepower.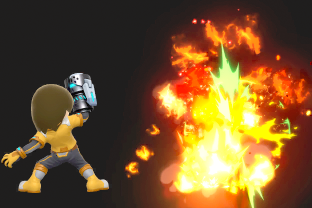 Flame Pillar
Fires a blast diagonally toward the ground, creating a miniature inferno on impact.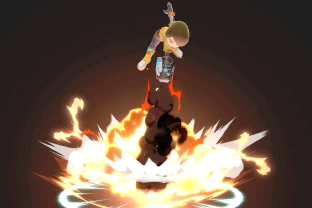 Lunar Launch
Shoots downward, rocketing into the air from the recoil.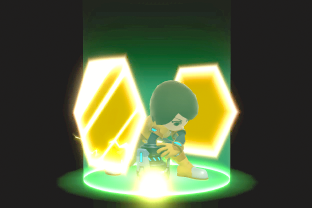 Echo Reflector
Reflects enemy projectiles, sending them back even stronger than they were before.