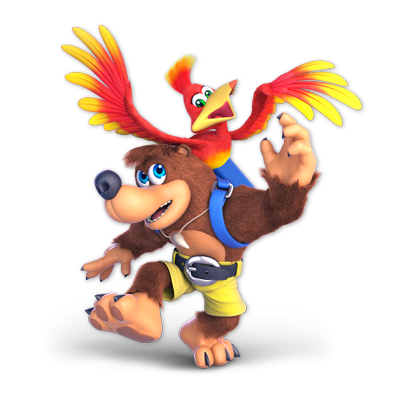 Banjo & Kazooie
Heavyweight
Banjo-Kazooie
Damage Table for Banjo & Kazooie
Smash Attacks
Neutral
---
Neutral: 2.2% (Hits 1-2)
Neutral SS: 3.7% (Hit 3)
Neutral WS: 0.4%|1.6% (Loop|Final)
Up
---
Up: 1% (Hit 1)
Up SS: 1.5% (Hits 2-7)
Up WS: 3.5% (Hit 8)
Down
---
Down: 15%
Down SS: N/A
Down WS: N/A
Side
---
Side: 16%
Side SS: N/A
Side WS: N/A
Special Attacks
Neutral
---
Neutral: See Below
Neutral SS: N/A
Neutral WS: N/A
Up
---
Up: 3%
Up SS: N/A
Up WS: N/A
Down
---
Down: 9.22%
Down SS: N/A
Down WS: N/A
Side
---
Side: 22%
Side SS: N/A
Side WS: 16%
Air Attacks
Neutral
---
Neutral: 0.8% (Hits 1-7)
Neutral SS: 4.1% (Hit 8)
Neutral WS: N/A
Up
---
Up: 1.6% (Hit 1)
Up SS: 5.8% (Hit 2)
Up WS: N/A
Down
---
Down: 10% (Dive)
Down SS: 2% (Landing)
Down WS: N/A
Forward
---
Forward: 15%
Forward SS: N/A
Forward WS: 12%
Back
---
Back: 1.6% (Hits 1-2)
Back SS: 4.8% (Hit 3)
Back WS: N/A
Tilt Attacks
Up
---
Up: 10%
Up SS: N/A
Up WS: N/A
Down
---
Down: 5% (Close)
Down SS: 6% (Beak)
Down WS: 3% (Late)
Side
---
Side: 7% (Close)
Side SS: 9% (Beak)
Side WS: N/A
Other Attacks
Grabs
Pummel: 1.4%
Up: 5.4% | 3%
Down: 5.6%
Forward: 5.4% | 3%
Back: 11.4%|8% (Throw|Collateral)
Air Grab
Air Grab: N/A
Air Grab SS: N/A
Air Grab WS: N/A
Dash Attack
Dash: 12%
Dash SS: N/A
Dash WS: 8%
Floor & Edge
Floor Forward: 7%
Floor Back: 7%
Floor Trip: 5%
Edge: 10%
Move Breakdown
Neutral
---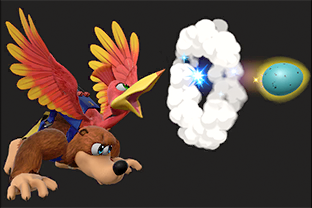 Egg Firing / Breegull Blaster
Fires an egg from Kazooie's mouth. Press and hold the button to shoot while moving around.
Side
---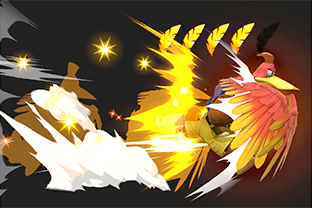 Wonderwing
Uses a Golden Feather to become invincible and charge forward. Used feathers will not be replenished until you are KO'd.
Up
---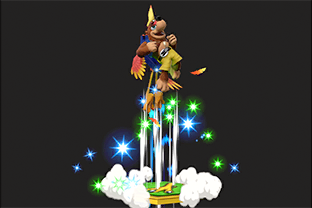 Shock Spring Jump
Uses a Shock Spring Pad to jump into the air (hold button for greater height). You can move and attack after jumping.
Down
---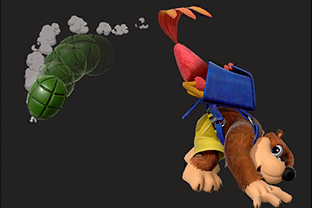 Rear Egg
Shoots a grenade egg diagonally upward in the direction Kazooie isn't facing. Make sure to face away from your target.