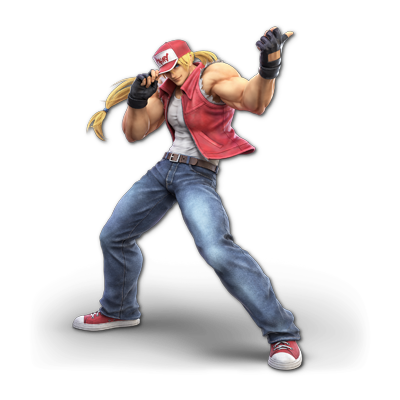 Terry
Heavyweight
Fatal Fury
Damage Table for Terry
Smash Attacks
Neutral
---
Neutral: 3% (Hit 1)
Neutral SS: 1%|2% (Hits: 2|3)
Neutral WS: 7% (Hit 4)
Up
---
Up: 18% (Late)
Up SS: N/A
Up WS: 16% (Early)
Down
---
Down: 12%
Down SS: N/A
Down WS: N/A
Side
---
Side: 18%
Side SS: N/A
Side WS: N/A
Special Attacks
Neutral
---
Neutral: 10% (Air, Tapped)
Neutral SS: 11% (Air, Held)
Neutral WS: 8%|9% (Tapped|Held)
Up
---
Up: 14.6% (Special, Tapped)
Up SS: 16.6% (Special, Held)
Up WS: 11.9|13.9% (Tapped|Held)
Down
---
Down: Varies by Input
Down SS: See Below
Down WS: N/A
Side
---
Side: Varies by Input
Side SS: See Below
Side WS: N/A
Air Attacks
Neutral
---
Neutral: 7%
Neutral SS: N/A
Neutral WS: 5%
Up
---
Up: 9%
Up SS: N/A
Up WS: N/A
Down
---
Down: 17%
Down SS: N/A
Down WS: 15%
Forward
---
Forward: 11%
Forward SS: N/A
Forward WS: 8%
Back
---
Back: 15%
Back SS: N/A
Back WS: 12%
Tilt Attacks
Up
---
Up: 11%
Up SS: N/A
Up WS: N/A
Down
---
Down: 3%
Down SS: N/A
Down WS: N/A
Side
---
Side: 12% (Leg)
Side SS: 13% (Foot)
Side WS: N/A
Other Attacks
Grabs
Pummel: 1.5%
Up: 5% | 1%
Down: 8%
Forward: 10%
Back: 10%
Air Grab
Air Grab: N/A
Air Grab SS: N/A
Air Grab WS: N/A
Dash Attack
Dash: 13%
Dash SS: N/A
Dash WS: 10%
Floor & Edge
Floor Forward: 7%
Floor Back: 7%
Floor Trip: 5%
Edge: 10%
Move Breakdown
Neutral
---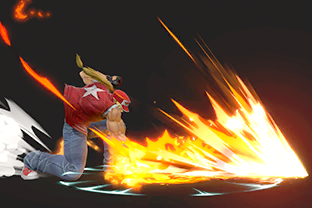 Power Wave
Punch down and send a shock wave along the ground. The range of the shock wave is shorter in the air.
Side
---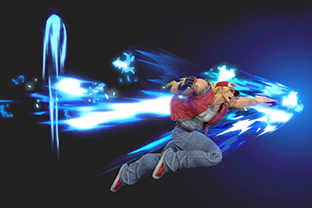 Burning Knuckle / Crack Shoot
Forward tilt special: Charge forward, fist extended. Backward tilt special: Jump forward with a downward heel kick.
Up
---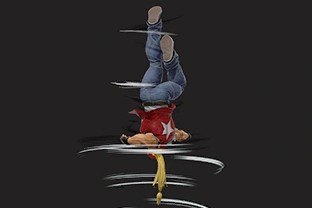 Rising Tackle
Strike against airborne threats by rising up feetfirst. Tilt the stick left or right to move slightly.
Down
---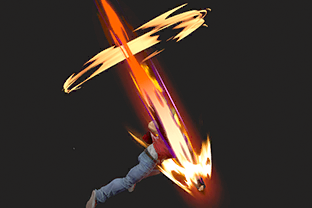 Power Dunk
Knock opponents into the air with a knee strike, then follow up with a diagonal downward punch.