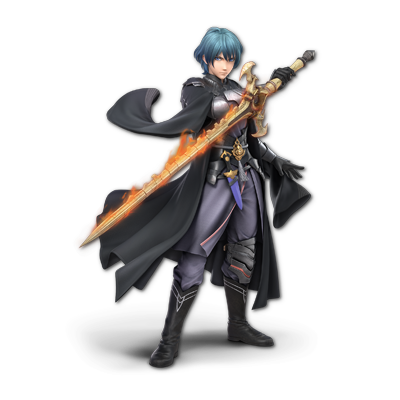 Byleth
Middleweight
Fire Emblem
Damage Table for Byleth
Smash Attacks
Neutral
---
Neutral: 1.5% (Hit 1)
Neutral SS: 2%|4.5% (Hits 2|3)
Neutral WS: 0.4%|3.5% (Loop|Last)
Up
---
Up: 2% (Hits 1-3)
Up SS: 10% (Hit 4)
Up WS: N/A
Down
---
Down: 23%
Down SS: N/A
Down WS: N/A
Side
---
Side: 12%|18% (Shaft|Tip)
Side SS: 13%|19.5% (Shaft|Tip)
Side WS: 11.5%|17.25% (Shaft|Tip)
Special Attacks
Neutral
---
Neutral: 12%
Neutral SS: 29% (Fully Charged)
Neutral WS: N/A
Up
---
Up: 1% (Hit)
Up SS: 3% (Grab)
Up WS: 6.5-13% (Bounce)
Down
---
Down: 25% (Air)
Down SS: 30% (Ground)
Down WS: 8% (Shockwave)
Side
---
Side: 14.25% (Air, Tip)
Side SS: 17.25% (Ground, Tip)
Side WS: 9.5-11.5% (Shaft)
Air Attacks
Neutral
---
Neutral: 2.5% (Hits 1-3)
Neutral SS: 3% (Hit 4)
Neutral WS: 1% (Landing)
Up
---
Up: 3% (Hits 1-2)
Up SS: 5.5% (Hit 3)
Up WS: N/A
Down
---
Down: 19%
Down SS: N/A
Down WS: N/A
Forward
---
Forward: 8.5% (Shaft)
Forward SS: 12.75% (Tip)
Forward WS: N/A
Back
---
Back: 10% (Shaft)
Back SS: 15% (Tip)
Back WS: N/A
Tilt Attacks
Up
---
Up: 10%
Up SS: N/A
Up WS: N/A
Down
---
Down: 8%
Down SS: N/A
Down WS: N/A
Side
---
Side: 11%
Side SS: N/A
Side WS: N/A
Other Attacks
Grabs
Pummel: 1.5%
Up: 6% | 3%
Down: 3% | 2%
Forward: 3% | 3%
Back: 7% | 5%
Air Grab
Air Grab: N/A
Air Grab SS: N/A
Air Grab WS: N/A
Dash Attack
Dash: 9% (Hilt)
Dash SS: 13% (Blade)
Dash WS: N/A
Floor & Edge
Floor Forward: 7%
Floor Back: 7%
Floor Trip: 5%
Edge: 9%
Move Breakdown
Neutral
---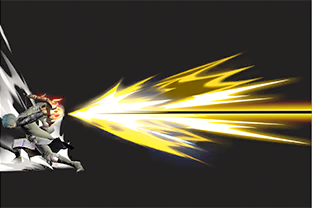 Failnaught
Draw and hold the bow for a set amount of time to fire an arrow. Hold the button to charge a powerful shot with greater range.
Side
---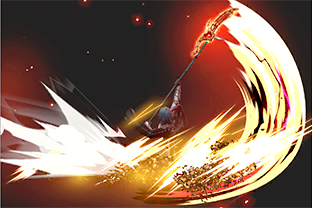 Areadbhar
Slash forward in an arc. Flicking the stick as you activate this move will cause you to slash upward and move forward.
Up
---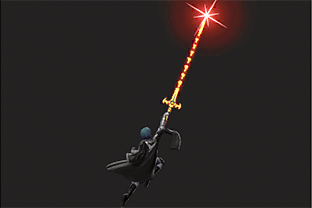 Sword of the Creator
Stretch the sword outward, jumping upward if it hits an opponent. You can use this attack to recover or dangle if you hit an edge.
Down
---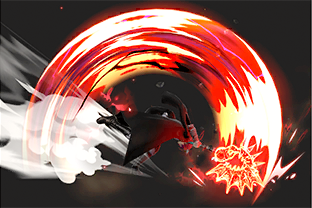 Aymr
Charge up the axe, then swing down with great force. The move leaves you vulnerable, but it's a devastating blow if it connects.