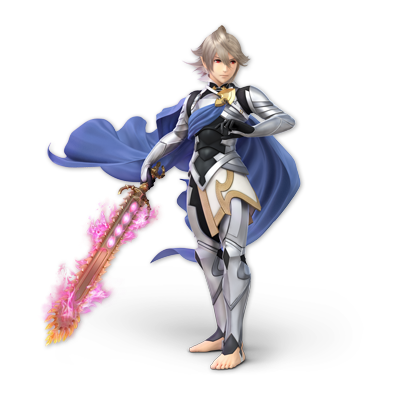 Corrin
Middleweight
Fire Emblem
Damage Table for Corrin
Smash Attacks
Neutral
---
Neutral: 2-2.5%|2% (Hits: 1|2)
Neutral SS: 3%|4% (Hit 3: Base|Tip)
Neutral WS: 0.5%|3% (Loop|Last)
Up
---
Up: 13% (Base)
Up SS: 15% (Tip)
Up WS: 10% (Sides)
Down
---
Down: 11% (Sword)
Down SS: 14% (Lance: Tip)
Down WS: 9% (Lance: Mid)
Side
---
Side: 11%|12% (Base|Mid)
Side SS: 15.2% (Tip)
Side WS: 0.5% (Charge Loop)
Special Attacks
Neutral
---
Neutral: 4% (Shot: Uncharged)
Neutral SS: 11% (Shot: Full Charge)
Neutral WS: 10%|20% (Bite: Uncharged|Full)
Up
---
Up: 4.5% (Hit 1)
Up SS: 1.2% (Hits 2-6)
Up WS: 3% (Hit 7)
Down
---
Down: 1.2x Counter
Down SS: (Minimum 10%)
Down WS: N/A
Side
---
Side: 7-15% (Lance)
Side SS: 7-12% (Front/Back Kick)
Side WS: 5% (Back Kick: Turn)
Air Attacks
Neutral
---
Neutral: 7%
Neutral SS: N/A
Neutral WS: 5.5%
Up
---
Up: 9%
Up SS: N/A
Up WS: N/A
Down
---
Down: 2% (Loop)
Down SS: 3% (Landing)
Down WS: N/A
Forward
---
Forward: 7.5%
Forward SS: N/A
Forward WS: N/A
Back
---
Back: 11%
Back SS: N/A
Back WS: 9%
Tilt Attacks
Up
---
Up: 9% (Late: Sword)
Up SS: 9% (Clean)
Up WS: 6% (Late: Body)
Down
---
Down: 7.5%
Down SS: N/A
Down WS: N/A
Side
---
Side: 10.5%
Side SS: N/A
Side WS: N/A
Other Attacks
Grabs
Pummel: 1.3%
Up: 6.5% | 3%
Down: 6.5% | 3%
Forward: 5-10% | 2%
Back: 6.5-12% | 2%
Air Grab
Air Grab: N/A
Air Grab SS: N/A
Air Grab WS: N/A
Dash Attack
Dash: 2% (Hits 1-5)
Dash SS: 3% (Hit 6)
Dash WS: N/A
Floor & Edge
Floor Forward: 7%
Floor Back: 7%
Floor Trip: 5%
Edge: 9%
Move Breakdown
Neutral
---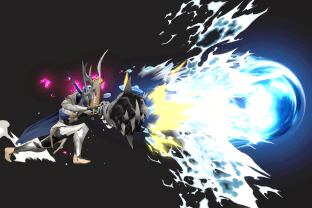 Dragon Fang Shot
Shoots a paralyzing projectile from Corrin's dragon arm, which bites any close enemies. Can be charged up.
Side
---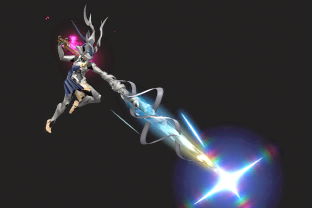 Dragon Lunge
Leaps forward and skewers enemies or surfaces. A follow-up button press vaults Corrin forward with a kick.
Up
---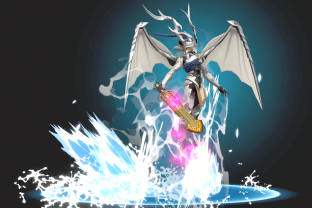 Dragon Ascent
Flies into the air, dealing damage while climbing. The direction can be controlled somewhat.
Down
---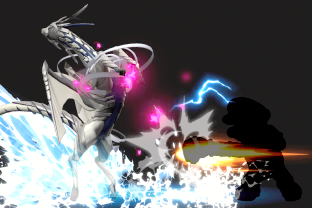 Counter Surge
Awaits an attack and punishes it by turning into a dragon, launching enemies with jets of water.