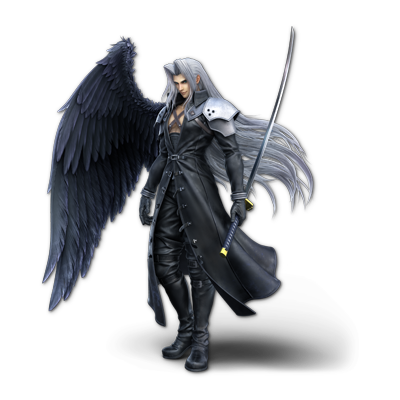 Sephiroth
Lightweight
Final Fantasy
Damage Table for Sephiroth
Smash Attacks
Neutral
---
Neutral: 2.5% (Hit 1)
Neutral SS: 2% (Hit 2)
Neutral WS: 4% (Hit 3)
Up
---
Up: 11.5%-13%
Up SS: 15.5%-17%
Up WS: 10.5%-12%
Down
---
Down: 11.5% (Blade)
Down SS: 13%-16.5% (Tip)
Down WS: 10.5% (Hilt)
Side
---
Side: 15%
Side SS: 20%
Side WS: 13.5%
Special Attacks
Neutral
---
Neutral: 3.5%|3.7%|9% (1|2-7|8)
Neutral SS: 6%|3.7%|11% (1|2-7|8)
Neutral WS: 3%|10.5% (Hits 1|2)
Up
---
Up: 7% (Blade Dash)
Up SS: 2.3% (Octaslash 1-7)
Up WS: 7% (Octaslash 8)
Down
---
Down: 1% (Hits 1-3)
Down SS: 5% (Hit 4)
Down WS: 1.2x-1.5x Counter
Side
---
Side: 1.5%-4.5% (Initial)
Side SS: 6.5% (Dark Spere)
Side WS: 7% (Sphere Collateral)
Air Attacks
Neutral
---
Neutral: 8.5%
Neutral SS: N/A
Neutral WS: N/A
Up
---
Up: 8%
Up SS: 11%
Up WS: 7%
Down
---
Down: 10% (Handle/Late)
Down SS: 15%
Down WS: 5%-7% (Ground)
Forward
---
Forward: 7%-10%
Forward SS: 8%-11%
Forward WS: 5.5%-8.5%
Back
---
Back: 11.5%
Back SS: 14.5%
Back WS: 9.5%
Tilt Attacks
Up
---
Up: 11-14% (Clean)
Up SS: 1% (Ground)
Up WS: 7-10% (Late)
Down
---
Down: 8%
Down SS: N/A
Down WS: 6%
Side
---
Side: 9% (Tip)
Side SS: 12% (Mid)
Side WS: 7.5% (Hilt)
Other Attacks
Grabs
Pummel: 1.3%
Up: 4%|3% (Hit|Throw)
Down: 4%
Forward: 3%|3% (Hit|Throw)
Back: 3%|3.5% (Hit|Throw)
Air Grab
Air Grab: N/A
Air Grab SS: N/A
Air Grab WS: N/A
Dash Attack
Dash: 13%
Dash SS: N/A
Dash WS: 7%
Floor & Edge
Floor Forward: 7%
Floor Back: 7%
Floor Trip: 7%
Edge: 9%
Move Breakdown
Neutral
---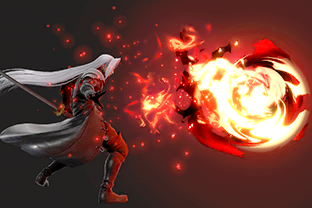 Flare / Megaflare / Gigaflare
Hold the button down to charge; release to launch a fireball. Charging longer reduces the range but increases the explosion size.
Side
---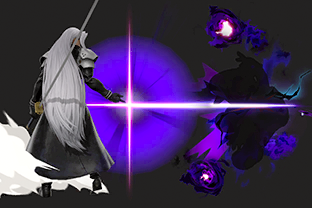 Shadow Flare
Release a small burst of energy. If an opponent is hit, the energy will move around them for a short time and then detonate.
Up
---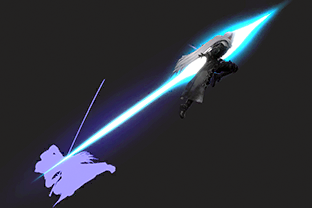 Blade Dash / Octaslash
Input a direction with the stick, and you'll slash in that direction. Hold down the attack button to strike eight times in a row.
Down
---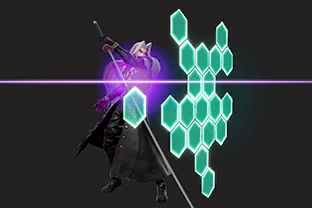 Scintilla
Create a barrier of light in front of you. After some time passes or the barrier is struck, it will change into a Scintilla attack.