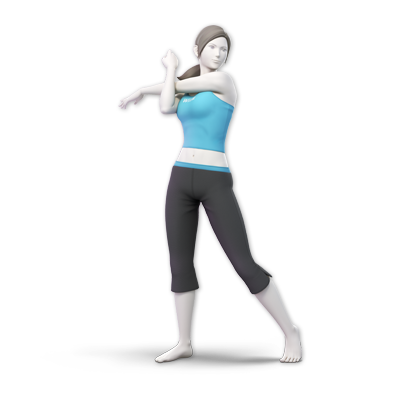 Wii Fit Trainer
Middleweight
Wii Fit
Damage Table for Wii Fit Trainer
Smash Attacks
Neutral
---
Neutral: 2% (Hit 1)
Neutral SS: 2% (Hit 2)
Neutral WS: 3% (Hit 3)
Up
---
Up: 15% (Arms)
Up SS: 18% (Hands)
Up WS: 8%|11% (Arms|Hands)
Down
---
Down: 10%
Down SS: 12% (Arm/Leg)
Down WS: N/A
Side
---
Side: 14% (Body)
Side SS: 15.5% (Arms)
Side WS: N/A
Special Attacks
Neutral
---
Neutral: 5% (Uncharged)
Neutral SS: 21% (Full Charge)
Neutral WS: N/A
Up
---
Up: 5% (Hits 1-3)
Up SS: N/A
Up WS: N/A
Down
---
Down: (See Below)
Down SS: N/A
Down WS: N/A
Side
---
Side: 15% (Headbutt)
Side SS: 8.8-12.3% (Ball)
Side WS: N/A
Air Attacks
Neutral
---
Neutral: 5% (Hit 1)
Neutral SS: 9% (Hit 2)
Neutral WS: N/A
Up
---
Up: 10%
Up SS: N/A
Up WS: N/A
Down
---
Down: 13% (Ground)
Down SS: 14% (Air)
Down WS: 10%
Forward
---
Forward: 10% (Leg)
Forward SS: 12% (Arm)
Forward WS: 6%|7.5% (Arm|Leg)
Back
---
Back: 9%|11% (Body|Legs)
Back SS: 13.5% (Feet)
Back WS: 6%
Tilt Attacks
Up
---
Up: 10%
Up SS: N/A
Up WS: N/A
Down
---
Down: 13.5%
Down SS: N/A
Down WS: N/A
Side
---
Side: 11%
Side SS: N/A
Side WS: N/A
Other Attacks
Grabs
Pummel: 1.3%
Up: 8%
Down: 7%
Forward: 3% | 7%
Back: 3% | 6%
Air Grab
Air Grab: N/A
Air Grab SS: N/A
Air Grab WS: N/A
Dash Attack
Dash: 10%
Dash SS: N/A
Dash WS: 6%
Floor & Edge
Floor Forward: 7%
Floor Back: 7%
Floor Trip: 5%
Edge: 9%
Move Breakdown
Neutral
---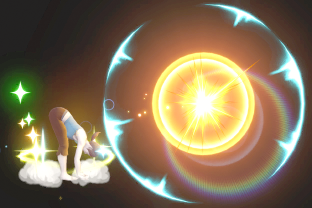 Sun Salutation
Charges a ball of energy. A second button press launches it. Heals slightly when fully charged.
Side
---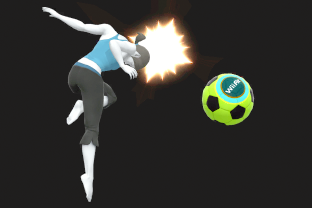 Header
Heads a soccer ball at opponents. A second button press heads the soccer ball early.
Up
---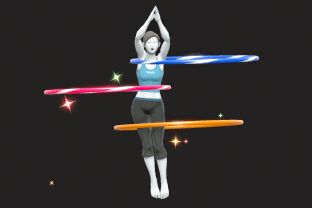 Super Hoop
Gyrates into the air, striking opponents. Floating is possible with rapid button presses.
Down
---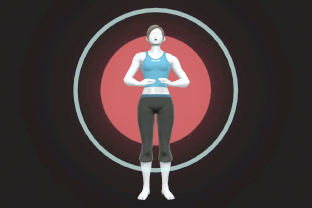 Deep Breathing
Inhales deeply. Can heal, boost movement, and increase launch power with good timing.